A Virtual Hub for Resources & Information about Share, Reuse, and Repair

Share, reuse, and repair are simple but essential actions we can easily incorporate into our lives to extend the life of products we use everyday and stimulate a circular economy.
With support from York Region's Circular Economy Initiatives Fund, Circular Innovation Council has developed the Share, Reuse, and Repair Hub. This online hub allows easy access to resources that enable share, reuse, and repair. Explore the hub to find what options are available near you!
Launched in July 2022, the hub includes:
Information on sharing, reusing and repairing, and the circular economy
A directory of local organizations and businesses that provide services for extending the life of everyday items, such as:

Tailors
Bike repair shops
Electronics repair shops

Promotions for upcoming community swap, share, repair events
Toolkits to organize local swap, share, repair events, like the Swap It Toolkit
A searchable map to find businesses, shops, community organizations and events near you
The Share, Reuse and Repair Hub supports the sharing and repairing economy of everyday items such as textiles, electronics, household appliances, recreational equipment, and furniture; and helps reduce carbon emissions and waste sent to landfill in York Region and beyond. With a directory of local organizations marked on a live mapping feature, you will be able to find whatever resources you need, whether it be an event, a second-hand store, or a drop-off donation centre.
The goal for the Hub is to increase awareness in the community of the benefits of the circular economy, and help measure the impact of reducing waste within York Region. It will also create awareness for communities with an emphasis on promoting local businesses and events that showcase circular business models.
Disclaimer: the resources provided through the Share, Reuse, Repair Hub do not necessarily reflect the views and policies of Circular Innovation Council nor York Region. The mission of the Share, Reuse, Repair Hub is to provide an inclusive scope of information and directory of resources for inidividuals to learn and take action.  If you have any questions or concerns regarding content on this website, please email [email protected]
What is the Circular Economy?

Products have historically been designed for convenience with no consideration of the waste left behind. Take a raw material, make something, use it, and dispose it; this is called the linear economy. A circular economy is a new, innovative approach to designing and using products; it happens when resources are used again and again and waste is reduced or eliminated. Reusing and extending the life of everyday products like electronics, clothing, and toys for as long as possible is just one way you can support the circular economy.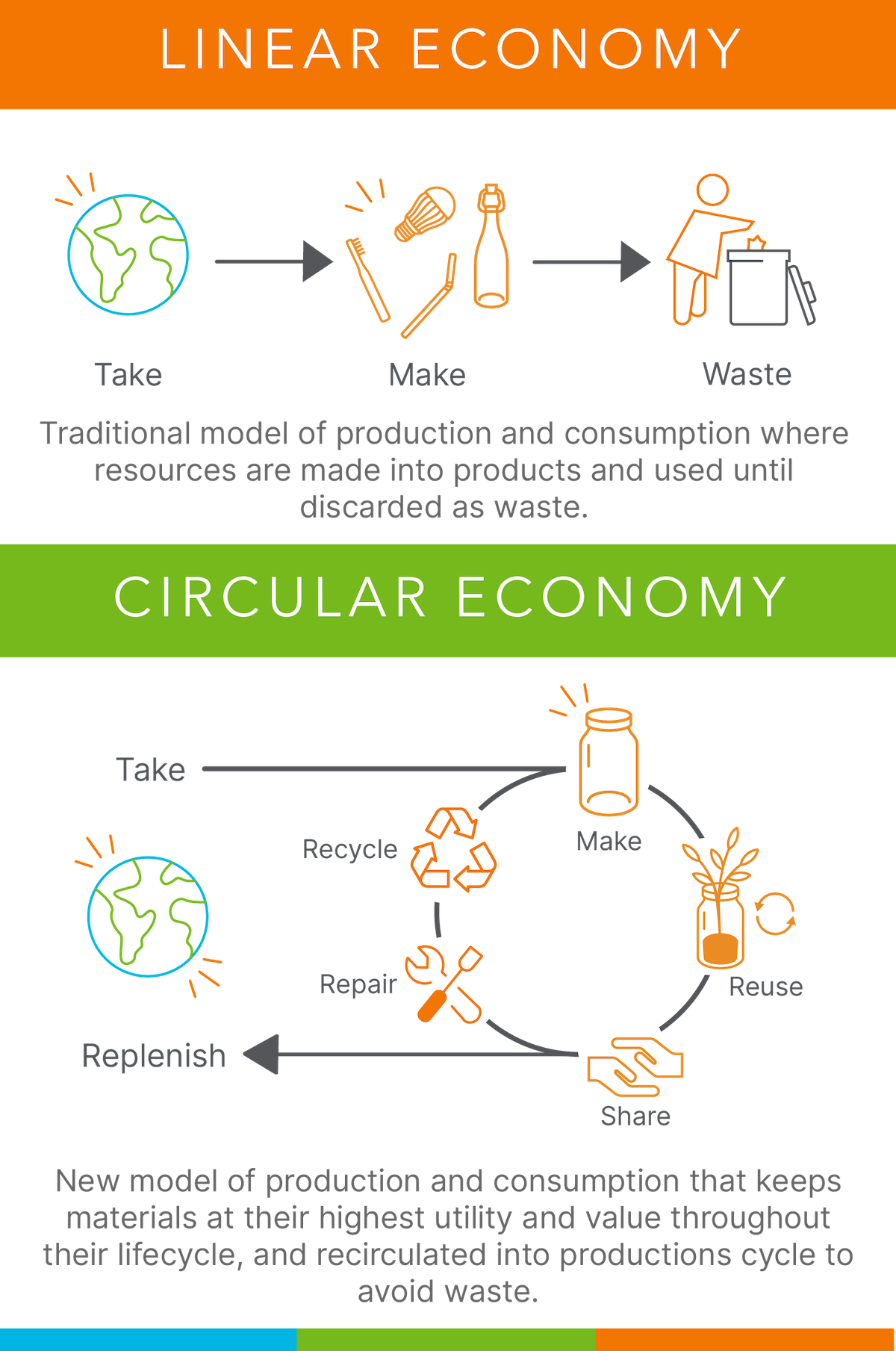 Benefits of a Circular Economy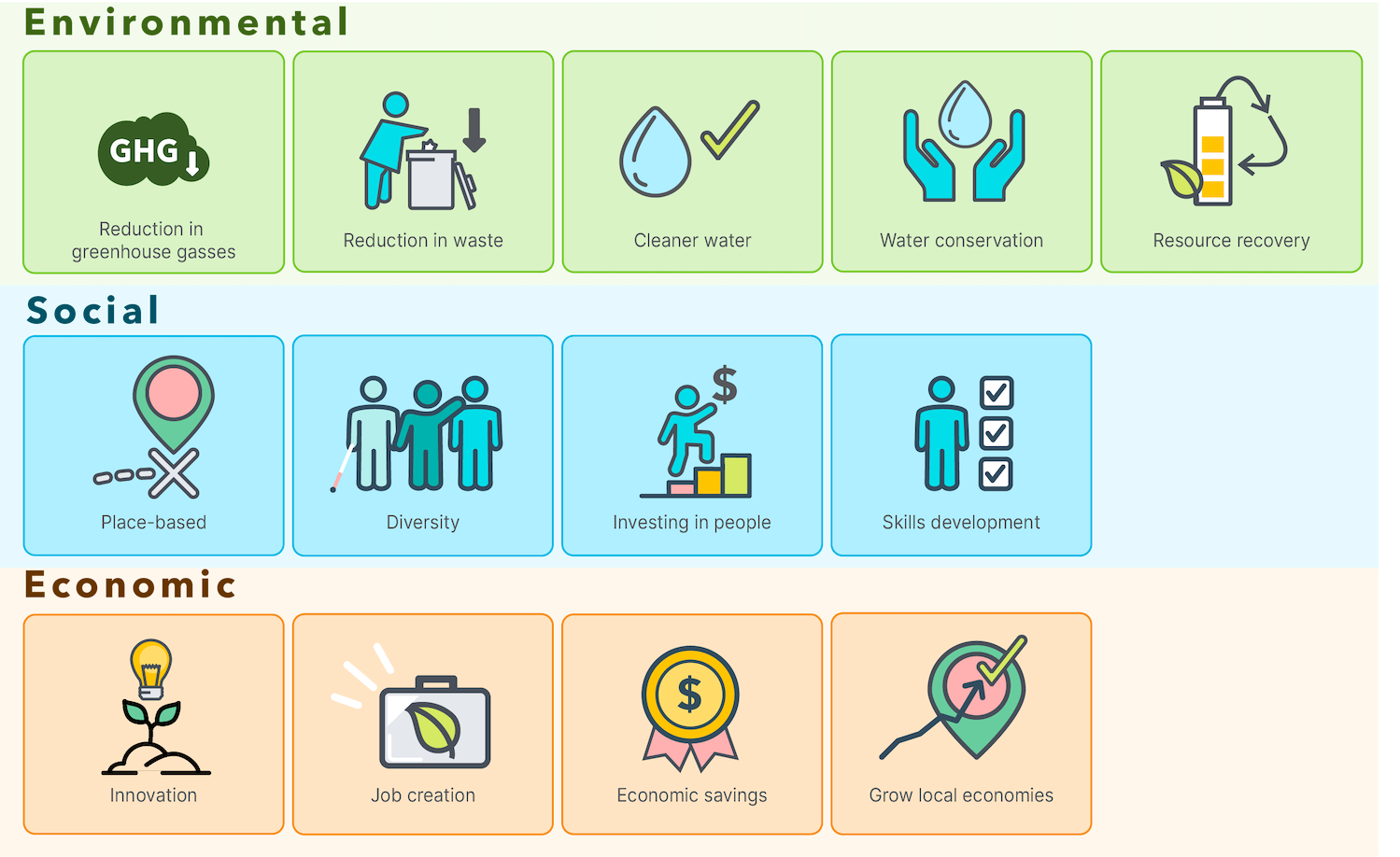 Ways you can help advance the circular economy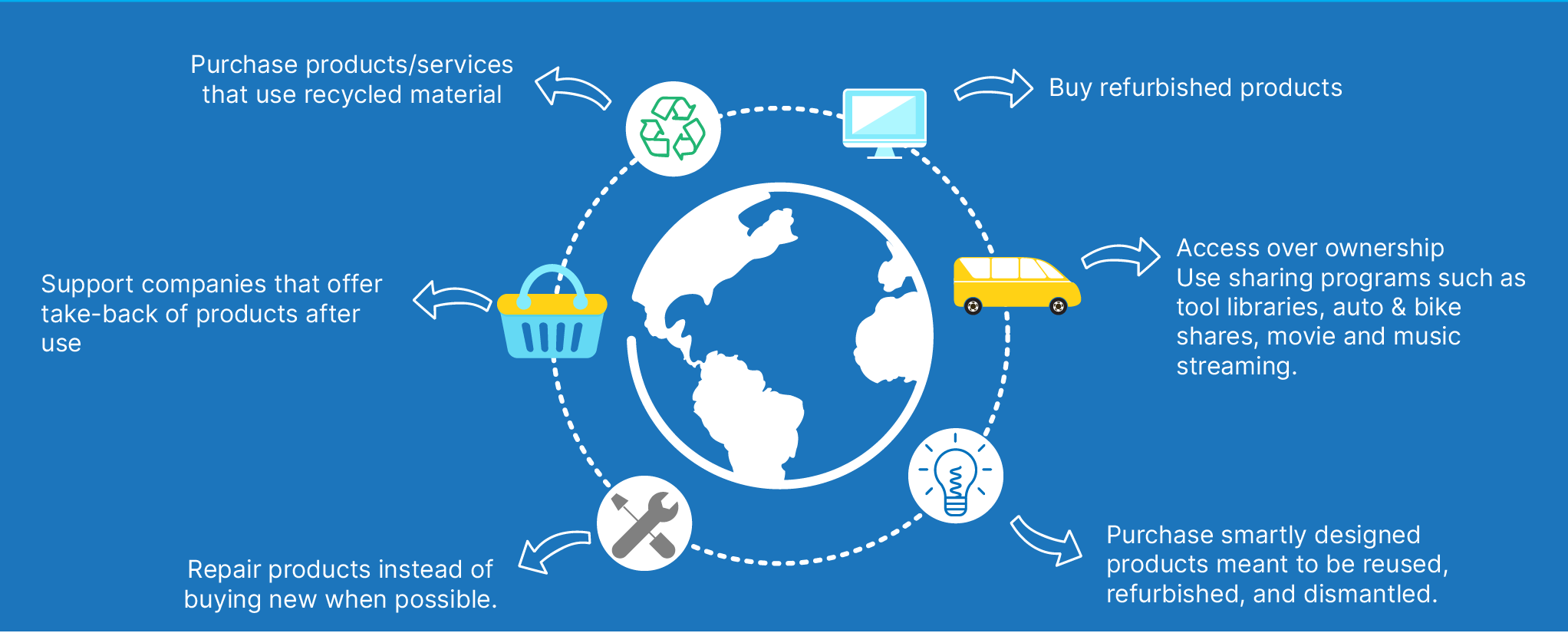 About Circular Innovation Council

Circular Innovation Council is a not-for-profit environmental organization that believes solutions for greater resource efficiency and environmental protection is to advance the circular economy. We are inclusive and collaborative among supply and value chains; and seek to advance circular business models, products, and services that deliver redefined values to equate social, environmental, and economic benefit. Throughout our history we have played a lead role in uniting stakeholders across entire value and supply chains, and utilize expertise and experience of our diverse membership. We leverage collaborative efforts to fully understand priority and realize potential. In doing so we are strategically positioned as a resource organization that all actors can use to develop and implement their strategies.
Visit Circular Innovation Council to learn more about the circular economy and the actions we are taking to put circular economy concepts into action.
About York Region's Circular Economy Initiatives Fund
The Share, Reuse, Repair Hub is a project funded by The Regional Municipality of York's Circular Economy Initiatives Fund, offering funding to non-profit, community-driven, innovative projects that will help reduce residential waste and advance a circular economy. The fund supports organizations whose projects result in a reduction of residential waste generated (based on weight) or an increase in reuse of residential waste, diverting it from landfill, as well as education and awareness projects that lead to behaviour change and/or increased knowledge of the value of waste. Learn more about the fund at York.ca

How York Region is Going Circular
York Region's waste management master plan, also known as the SM4RT Living Plan, has a visionary goal of "a world in which nothing goes to waste" and includes an objective to "inspire people across the Region to embrace SM4RT Living and advance the circular economy". 
To reach these goals the Region developed several initiatives to promote SM4RT Living's 4Rs (reduce, reuse, recycle and recover) that align with a circular approach to waste management. 
The Region also developed a Circular Economy Roadmap that identifies opportunities to integrate the circular economy into its operations, programs and policies.  Learn more at York.ca.